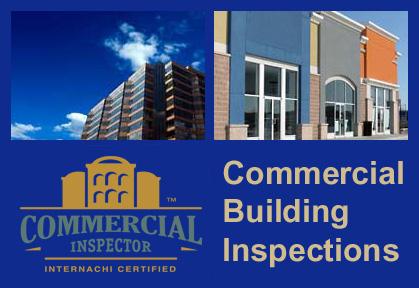 Commercial Inspections
The Commercial Building Inspector team has extensive experience, understanding, and training in the field of Commercial Building Inspections. We have the training and knowledge that enables us to find & identify the sources of water infiltration, heating and cooling problems, defects in construction, and structural deficiencies.Our commercial inspection team will evaluate the condition of the property and structure, and any systems affecting its use. Our report will clearly document the building's physical condition and specify items that may require major repair or replacement.Our Inspection Standards
We provide Property Condition Assessments based on ASTM guidelines and a detailed Commercial Building Inspection which includes structure, building envelope including roof, sidewalls and doors and windows; interior finishes including floors, walls and ceilings; mechanical, electrical, plumbing, HVAC; fire suppression and life-safety systems. Our comprehensive inspections also include the property: walks, roads, drive and parking areas and landscaping including storm water runoff and drainage.
Having Your Commercial Property Inspected The Barrie Home Inspector is a qualified Building Code inspector. He is a Certified Building Code Official with the Ontario Building Officials Association and is fully qualified on Large Buildings and Part 3 of the Ontario Building Code. An unknowing inspector may lead you to believe your property is code compliant when you could in fact be faced with spending thousands or tens of thousands in required building code upgrades. In the late sixties and early seventies, copper prices rose and contractors/electricians switched from copper to lower costing aluminum wiring. Knowing your property has aluminum wiring prior to purchasing could be a huge money saver for you. Many insurance companies will not insure a building containing aluminum wiring and the cost of retrofitting a property could be prohibitive due to budgeting. Asbestos became increasingly popular among manufacturers and builders in the late 19th century because of its sound absorption, average tensile strength, its resistance to fire, heat, electrical and chemical damage, and affordability. It was used in such applications as electrical insulation for hotplate wiring and in building insulation. When asbestos is used for its resistance to fire or heat, the fibers are often mixed with cement (resulting in fiber cement) or woven into fabric or mats. All types of asbestos fibers are known to cause serious health hazards in humans. Removing asbestos from a property can be expensive and time consuming. Personnel have to be licensed to perform asbestos removal. Mould: Leaking roofs or basements can lead to an excess of moisture in your crawl space, basement or storage areas of your building or office. The best reason is to avoid the growth of fungus, mold, or mildew that may decay and destroy wood and potentially your indoor air quality. Moisture in any form provides the missing ingredient for spores to thrive and grow in its environment. Having your property or building inspected can prevent expensive clean up costs that might be incurred after you purchase a property. We use Infrared camera on commercial property roofs to find hidden leaks and areas which may soon have a failure. This technology enables us to find leaks that have not yet fully penetrated the entire roof and would not be visible to the naked eye. This enables us to report on predictable service life remaining on most flat roofs. The Commercial Property Inspector has been in business for 7 years and has performed over 4,000 inspections. As a Certified Building Code Official with the Ontario Building Officials Assc he has master the Ontario Building Code by completing all the Part 9 (small buildings) and Part 3 (large buildings over 600 m2) which enables him to use this experience when inspecting your commercial real estate investment. All inspections are performed to ASTM E2018 standard and report is based on PCA format. The Barrie Home Inspector provides residential home inspection services for Barrie, Alliston and Orillia.
Our Commercial Property inspections are based on ASTM E2018 – 08 Standard Guide for Property Condition Assessments: Baseline Property Condition Assessment ProcessWhat if the report reveals problems?
Every building, even new construction has deficiencies, there will always be human error. Our detailed report separates each of your buildings major systems and includes a picture and description of defect. The Overview section of our report summarizes the overall conditon and requirements of each major building system.If required and arrangements are made at time of booking inspection we will provide a 10 Year Cost Estimate, based on observations made at time of inspection.We also, upon request, provide Letter of Reliance for your Financial Institution.What does a Commercial Building inspection include?Your Building Assessment report will review the condition of the properties major systems, including the heating system, central air conditioning system (temperature permitting), interior plumbing and electrical systems; the roof, attic, and visible insulation; walls, ceilings, floors, windows and doors; the foundation, basement, and visible structure.Environmental Reports
Phase 1 Environmental Assessment
Includes a Site Visit, Evaluation of Neighbouring Sites, Review of Records, Review Municipality or City Recoreds and File Search of Public Records.
Phase 2 Environmental Assessment
is an "intrusive" investigation which collects original samples of soil, groundwater or building materials to analyze for quantitative values of various contaminants. This investigation is normally undertaken when a Phase I ESA determines a likelihood of site contamination. The most frequent substances tested are petroleum hydrocarbons, heavy metals, pesticides, solvents, asbestos and mold.
Note: Results from a Phase 1 Environmental Assessment usually take one week to produce, time may vary, depending on complexity of project.
Our Mission Statement – Our goal is to help the purchasers of industrial, commercial, institutional and residential buildings with their due diligence to make sound financial real estate decisions. Our professional commercial building inspectors provide important maintenance advice and maintenance cost estimates to help first time and seasoned investors in commercial real estate get acquainted with their investment property.
Contact Information
Roger Frost
Certified Building Code Official
Certified Master Inspector
Phone: 705.795.8255
Inspection Areas
Alliston
Barrie
Bradford
Innisfil
Orillia
Midland
Penetang
Ramara
Wasaga Beach