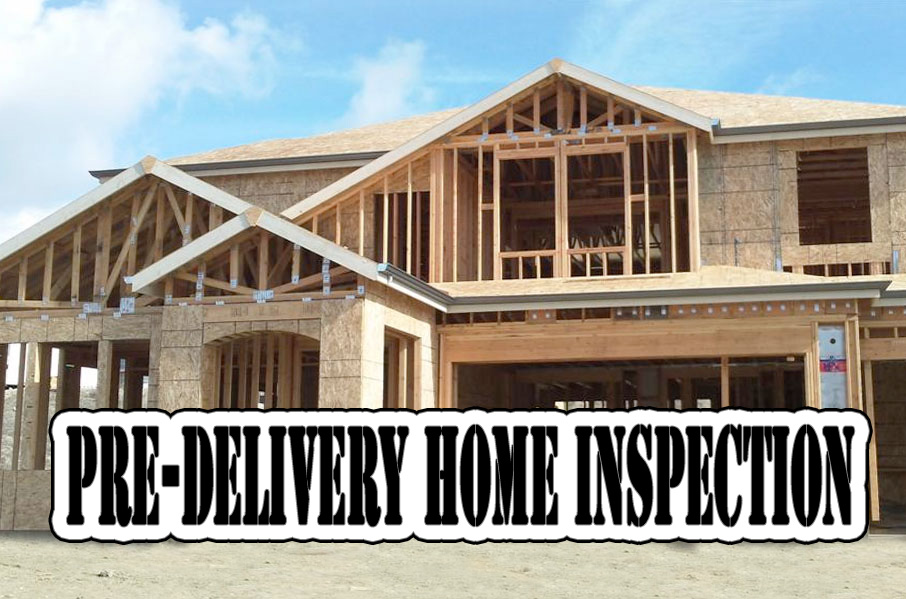 Pre-Delivery Inspections are Important!
New home buyers in Ontario are protected under the Ontario New Home Warranties Plan Act. This offers protection against defects in material and workmanship, delayed closings, unauthorized substitutions and deposit protection up to a total of 300,000 dollars. Many of Tarion's material warranties do not compare well with any premier manufactures warranties.
In Canada hardly anyone buys a home without having a Home Inspection performed by a trained professional. This is to protect the buyer from buying a home with defects or problems that he or she would probably not have found themselves. CHMC says, "One of the best ways to see if a home is in good condition, livable and safe is to hire a professional home inspector. A properly trained home inspector will review your house as a system, looking at how one component of the house might affect how another component works or how long it will last." It is strange that an organization which receives its money from the home buyer, as the fee is added onto the cost of the home, does not recommend a Pre-Delivery Inspection by a Qualified Home Inspector. One would think that maybe they did not have the best interests of the "Home Buyer" at heart?
There has been Private members bills introduced in parliament to have Tarion Corporation held accountable by the Provincial Ombudsman. This is not to be confused with the Tarion Ombudsman that has their office at Tarion and works for Tarion. So far there has been no change in Tarion's role and there is no protection for the consumer when things go wrong.
In 2008 the group, Canadians for Properly Built Homes released a News Release, TORONTO, ONTARIO – June 10, 2008 Canadians for Properly Built Homes (CPBH) is very pleased with the Ombudsman Ontario's report "Building Clarity": Investigation into how the Ministry of Government and Consumer Services represents its relationship with the Tarion Warranty Corporation to the public:, and supports its recommendations. With Ombudsman's findings, the Government of Ontario and Tarion can no longer continue to deny the very serious issues with Ontario's new home warranty system. It is clear that the current system of home warranty in Ontario has not adequately protected may Ontario purchasers of newly built homes. This have been devastating for many Ontario families."
There are many areas of concern when inspecting a new home that the average home owner would probably never notice and the builders representative will never point out. Some issues that have been previously found are; windows that will not open due to poor design of overhangs, raised floor tile at entrances to bathrooms, floor joists damaged by plumbers, wrong slope on high efficiency furnace vents, lack of insulation in attic, damaged material, wet basements, improperly nailed joist hangers and the list just goes on.
When your home is built there is a building permit taken out which part of the cost of goes towards inspections by your local building department. This includes inspections at every stage of your new homes construction. This inspections are supposed to ensure all requirements of the Ontario Building Code are met. Many of the new home buyers problems arise because not all of these inspections were performed, even though you paid for these inspection with the cost of the building permit, which is added onto the price of the home.
Not all builders have problems with their homes or with dealing with new home buyers, but unless you do your homework and take the appropriate steps to protect your investment, you won't know until it is too late. Google can be your friend when you want to find out about your builder but even that is not guaranteed because many builders operate under a different name for each subdivision that they build.
Taking a professional Home Inspector with you during your Pre Delivery Inspection makes sense considering your home is typically one of the largest investments you will make. Let someone who specializes in finding the problems work on your behalf. Of all the permits and charges you pay when buying a new home, your Home Inspector and lawyer are the only people that are working just for you.
Note:  The Ontario Government recently announced they would be removing Tarion from the Warranty Inspection process.  This is a big step forward for home buyers as Tarion was perceived as being too closely associated with the builders.
Contact Information
Roger Frost
Certified Building Code Official
Certified Master Inspector
Phone: 705.795.8255
Inspection Areas
Alliston
Barrie
Bradford
Innisfil
Orillia
Midland
Penetang
Ramara
Wasaga Beach