WETT Inspections
What is a WETT Inspection?
Typically, when people are looking for an insurance type of inspection, a visual inspection is conducted to determine if there is evidence of any problems with the installation. This includes examining clearances, chimney heights and visual signs of deterioration. If there are concerns identified, then the inspector should make a recommendation that the appliance be checked and, if necessary, repaired by a WETT certified technician or chimney sweep.
What is inspected?
A WETT inspection is an inspection carried out by an inspector who is WETT Certified.
Below is a list of items that may be inspected by your WETT Certified Inspector on a Wood Stove, Pellet Stove or Fireplace inspection:
Chimney & Cap
Chimney Liner or Flue Tiles
Smoke Chamber
Wood Stove or Fireplace Damper
Firebox & Firebricks/Linings
Hearth & Floor Protection
Mantle & Clearances to Combustible Walls & Ceilings
Proper Flue Pipe Installation & Venting
Clearance to Combustible Exterior Items
Chimney

I always start an inspection on the roof. This is a damaged chimney that will have to be repaired prior to being deemed acceptable for use. This type of chimney damage is usually a result of not have a rain cap installed or not sealing cracks that have developed on the chimney cap. A little caulking can sometime save a home owner a lot of money.
Chimney Flue Tiles

Chimney flue tiles are inspected for cracking and proper joints. Allowing water to enter your chimney flue is a bad idea and rain caps are very important to preserving you chimney. This chimney will require a new clay flue tile to be installed. Most insurance companies will ask if you have rain cap and screen installed on chimney. A small investment in prevention can save you hundreds of dollars in needless repairs.
Wood Stove Installation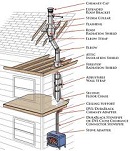 Wood stove and metal chimney installation is checked to ensure all components are installed in accordance with WETT guidelines and manufactures instructions.
If you are not sure about your fireplace or chimney installation or clearances, call the Barrie Home Inspector for information and common problems prior to booking an inspection.
Wood Stove Clearances

Wood stoves and fireplaces all have required clearances from combustibles that must be maintained. Wood stoves have their clearances identified on ULC or other approved agency, usually on a plate at back of appliance.
Contact Barrie WETT Inspections for your woodstove, fireplace or pellet stove inspection.
Report issued at time of WETT Inspection.

Contact Information
Roger Frost
Certified Building Code Official
Certified Master Inspector
WETT Certified Inspections
Phone: 705.795.8255
Inspection Areas
Alliston
Barrie
Bradford
Innisfil
Orillia
Midland
Penetang
Ramara
Wasaga Beach